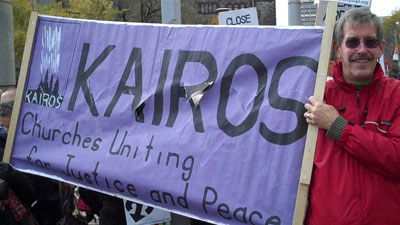 KAIROS is a Canadian NGO which, among other things, provides international assistance and does human rights work in Sudan, the Democratic Republic of Congo and Central America. It is internationally recognized and respected and, either directly or through its predecessors, has been receiving federal funding since 1973. On Monday, KAIROS found out via a brief phone call from CIDA (Canadian International Development Agency) that their long-standing and effective partnership with the federal government had come to a sudden end. No specific reason was given.
The lack of official explanation from the government has forced others to speculate. News reports point out that some recent activities of church-based KAIROS aren't exactly great ways to get onto Stephen Harper's Christmas list:
Later this week, a KAIROS delegation is to travel to the United Nations climate change conference in Copenhagen to help lobby for an agreement that would include substantial cuts to greenhouse gas emissions.
Last May, a KAIROS delegation toured Alberta's oil sands region to see how massive projects are affecting aboriginal people and to determine if the operations are environmentally sustainable.
The group met separately with officials from the four main federal parties in Ottawa last week and called for greater action on climate change and for a halt to new oil sands projects.
"We basically told our concerns about climate change and we thought it would be important for Canada to be represented [in Copenhagen]," Ms. Corkery said.
"In terms of the oil sands, we asked for a halt for new approvals – not to stop anything that is happening, but that there would be a halt to new approvals."
Last year, KAIROS published a position paper that questioned the amount of taxes Ottawa allows the oil sands industry to defer on the capital cost of projects.
Is there a connection? It seems clear that the decision was made at the political level:
The KAIROS contract that just expired received a positive audit and excellent CIDA evaluation this year. KAIROS submitted its new program proposal for 2009-2013 to CIDA in March 2009. It went through a lengthy approval process within CIDA up until the Minister's level and has been waiting for approval from the Minister since July 2009.
Maude Barlow, who points out that KAIROS has a long history of promoting human rights and sustainable environmental policies in developing countries, says "I believe that Kairos is being punished for taking a position on the eve of Copenhagen and on the tar sands. I think this is a declaration that they are not welcoming any criticism. They offended the agenda of the Harper government."
In other words, this could be a shot across the bow for other NGOs as well: Canada only has one party line now, and it must be toed.
Similarly, others speculate that the funding may have been cut to make way for another international project that Le Devoir calls Harper's "héritage politique."
Whatever the reason, it's a tragically damaging decision. "KAIROS has a long and rich history of advocacy and has been doing incredible work on behalf of those in need for decades," says NDP MP John Rafferty. "There is simply no justification for bankrupting such a respected organization whose work should be supported and promoted by our government."
In my opinion it would be a good use of your time to contact Bev Oda (full contact info, or send her an email) to ask her why this decision was made with such little ceremony (KAIROS Executive Director Mary Corkery writes, "I know of no precedent for the Canadian International Development Agency ending a decades-long funding relationship with a major Canadian organization without notice in writing, with no reason and no transition plan") and, if you oppose the decision, tell her so. It wouldn't hurt to write or email your MP as well. The folks at KAIROS would appreciate it if you would CC your correspondence to them as well. Thanks so much.