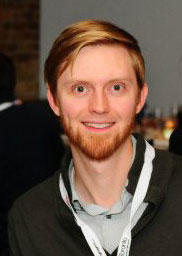 Hi, I'm Chris. I'm from Toronto, and now live in New York City. I've run for office three times (federally in 2006 and 2008 for the Green party, municipally in 2010 for Toronto city council) and lost each time. I am very good at losing elections.
I work in media and product management. I started my career at Astral Television Networks working on some of their websites (most notably family.ca and themovienetwork.ca) before moving to Corus Entertainment  where I was the producer of YTV.com and DiscoveryKids.ca. From 2007 to early 2014 I worked in newspapers, first for Metro as Director, Interactive and then for Postmedia Network Inc. as co-founder of an R&D team called Postmedia Labs. Somewhere in there I was a contributor and section editor for Torontoist. In 2014 I moved to New York to take a job in technical writing at BuzzFeed.
I perform cover songs professionally and write original songs unprofessionally, mostly with my friend Steve Salt and sometimes, though not often enough, with my brother Alex. In 2011 Steve and I wrote, recorded and released a new song every week, all year.
The photo across the top of this website was taken at Camp Big Canoe, probably my favourite place on Earth and where I spent many years as a camper, staff member and then board member.
In a volunteer capacity I have been involved with TEDxToronto, the Ontario Recreational Canoeing and Kayaking Association and Ladies Learning Code, and I was one of the founders of #goldsbiephone.
I am very concerned about our eroding democratic institutions, the worsening climate crisis, the health of our ecosystem, ongoing social injustices and the apparent inability of politicians to articulate consistently sane solutions to those problems. I'm currently unsure of how I can help, but am on the lookout for ideas.
I think space is awesome and I really want to visit one day. Other things I love include Firefly (and all the other Whedon stuff except for Dollhouse obviously but mostly Firefly), The West Wing, Battlestar Galactica, board games and musical theatre.
I live in Sunnyside, Queens with my wife Claire, daughter Matilda and dog Ceili, which makes me one of the luckiest people in the world.
I am on twitter.