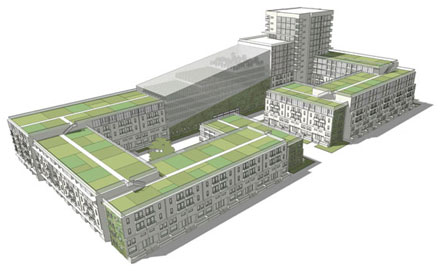 Last Tuesday at the St. Lawrence debate I was very excited to announce a major policy initiative called GROW Housing Toronto. The plan would see the Moss Park Armoury replaced with an inspiring development that provides not only new affordable housing (based on proven mixed-income, rent-to-own and co-operative models), but also generates power, grows food and creates jobs. Even though the proposal is in a "conceptual" stage, many experts have contributed to GROW Housing's design and, while not all of the details have been finalized, many have. Here's the video of the announcement.
Details and images can be found at growhousingtoronto.com, and there's also a Facebook group. Here's Eyeweekly's take on the proposal, as well as the debate in general:
"It's tempting to let cynicism sink in," says Green candidate Chris Tindal. "Because these are just words." Recently noting that the number of news stories regarding his hair (one) exceeded the number of news stories regarding his platform (zero), Tindal shows off something practical: GROW Housing Toronto, a design to replace Moss Park Armoury at Jarvis and Queen with affordable residences that fulfill urban environmental fantasies — including a Vertical Farm.

The conversation keeps veering away from the local, though, but Rae manages to reel it back by expressing how more people across Canada migrating to cities will be even more of a challenge than the immigration of a previous era. Tindal is pleased to hear Liberal talk of an environmental tax shift, noting there was no such discussion by Bill Graham when Tindal last did this election schtick in 2006.

But there's a bit less Rae worship from Tindal this time around, pointing out that he's the only candidate on the St. Lawrence Centre stage that was there for the previous federal election.

"We are hearing that people should vote Liberal to stop the scary spectre of Stephen Harper when you know this is a by-election," snipes Tindal. "The fact is, the Conservatives have no chance of winning — the best Don Meredith can say is that he believes in miracles. You're slipping into the politics of fear, and I think there are more options than that.

"Vote for me, and if you don't like me, you can vote me out — in a month … or a year … or a week … or a day … or however long this current government lasts."

Tindal also used his personal blog to refute Rae's assertion that there aren't Canadian military officers serving in Iraq as part of the American command, and even served up the evidence.